Carl Froch v George Groves- A Controversial End To A Fantastic Fight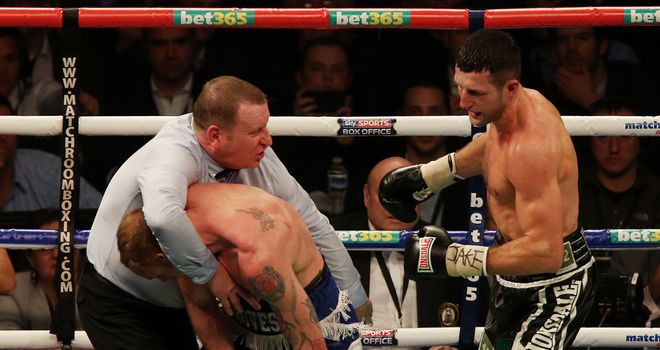 Last Saturday boxing fans across the world were treated to an unbelievable Battle of Britain between super middleweights Carl Froch and George Groves.
36 year old Froch came into the fight as the huge favourite being the WBA and IBF world champion and having campaigned at the top level for years. Froch had been in so many consecutive world title fights against all the best in the division and seemed to be in the prime of his career following a brilliant performance against Mikkel Kessler earlier in the year.
There was to be a huge shock on the night. George Groves performed sensationally and proved the many doubters including myself wrong. I believed that Groves would be technically good and cause trouble for a few rounds but would then be exposed. I thought that a fight of this magnitude against Froch was too early for Groves.
Groves proved that he is a world class boxer and that he can more than mix it with the elite level fighters. He started quickly and unbelievably floored Froch in the 1st round. Froch returned to his feet and continued but this cannot be played down. For Groves to have knocked Froch down was truly shocking. Froch is known to have a fantastic chin and has not even looked close to being knocked down in years.
Froch was hurt but showed his warrior like determination and fantastic chin in being able to continue. Groves then went on to dominate the fight. He was quicker, slicker, more accurate and all round out-boxing the champion.
Froch is known not to be the most technically gifted fighter but he was made to look slow and very crude. He was being completely outclassed for the majority of the fight. Groves hand-speed was great and his movement really was incredible. He made Froch miss time after time and was showing true class.
What would perhaps prove to be his downfall was that he began to stand and trade with Froch. He was dominating the fight and should have tried to carry on as he was. Froch was able to up the pressure as the fight went on and Groves began to look tired.
Froch was starting to get through with some better shots and the fight seemed to be turning his way. Groves was still clearly in the fight and ahead on the scorecards. To be honest the revelation that Froch was only 1 round behind Groves on the scorecard of 2 judges is an absolute disgrace. Groves was clearly rounds ahead.
This was to count for little though come the 9th and final round. Both fighters were trading shots but Froch's seemed to be the ones doing the damage. Froch had Groves backed up against the ropes and landed several big punches. Groves legs wobbled and he turned his back on Froch. The referee stepped in immediately and called a halt to proceedings.
The crowd booed amid calls of robbery. Groves protested and was clearly distraught believing that the stoppage was far too early and that he would go on to recover and see out the fight. There is no doubt that the fight was ended too early but to call it a robbery is naïve.
I understand why the referee stepped in as Groves had taken some big shots and turned his back on Froch. The referee is in there in order to protect the safety of both men and he obviously felt that he needed to step in to protect Groves.
The referee definitely stepped in too early for me and Groves was denied the opportunity of trying to fight back but crucially for me Froch was stopped from landing some heavy shots that would have ended the fight.
Groves was against the ropes, tired and was open to receiving some big shots from Froch. There was still a lot of time left in the round and for my money there is no way that Groves would have made the bell at the end of the round. Groves was denied the opportunity to go out on his shield and be knocked out. I have no doubt that Froch would have finished the job within the next 15-20 seconds but I feel that Groves deserved the right to be forced out of the ring.
It is easy for me to sit here and criticise the referee for stepping in and ending the fight prematurely but you have to realise that in the heat of the moment, in a brutal fight it is easy to see those big punches land and want to protect the fighter on the receiving end. It was early but I don't believe that it was a robbery at all.
Groves has come out of this fight as a hero. He walked into boos and walked out to cheers. His performance in the ring has silenced the critics and he has made himself somewhat of a colt hero. Before the fight he had given it all the talk and had wound up both Froch and many fight fans. But to be fair to him, he lived up to all the talk and more or less did what he said he would do. He dominated Froch for the majority of the fight.
For me the crucial element of the fight was Froch being able to up the pressure and lure Groves into more of a scrap. Froch is lethal when fighters decide to go toe to toe with him and it proved to be the case yet again. He was able to land some big shots on Groves and hurt him before the referee stepped in.
In terms of what's next for either fighter I'm unsure. Upon first reflection instant calls for a rematch are formulated. Groves proved that he can out-box Froch on a constant basis and hurt him and there is much criticism of the end to the fight. It would make for fascinating viewing and both men would want to set the record straight as they both believe that they would have won the fight should it have continued.
The fight would have massive build-up and hype surrounding it and would really generate huge interest within the boxing community and the country as a whole. Opinions as to who would win would be completely divided and it really would be another fantastic fight.
The one issue is that for me Groves couldn't possibly come out looking any better than he did from this fight. He has come out as the hero of the fight and will walk into another world title shot. If he fights Froch again than for me the result would be the same. Froch would truly realise what he is going in with and would be so determined to prove that he is the better fighter.
This is just speculation and I would love to see a rematch to settle the score but whether that will happen is another question. The politics involved in boxing may well prevent the chance to see both men enter the ring together again.
Carl Froch v George Groves- Groves proves he is a world class fighter but comes up short in a controversial stoppage against a man who simply wouldn't give in.